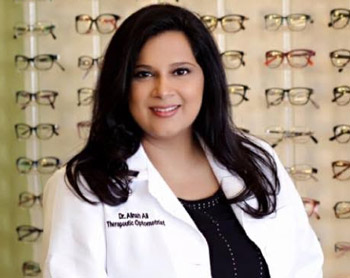 By Alinah Ali, OD, of Sugar Land, Texas
The day that I got the phone call that my baby daughter had a fever of 104 degrees and I had to make my apologies to a patient and leave the office was the day that I realized I couldn't sustain a 40-minute commute to my corporate location. The drive home was so stressful, and even when I learned upon arrival that my daughter's fever was just 100.4, I knew I was just too far away for comfort. So began looking for an option closer to home, and what I found eventually was a practice for sale just two minutes from my house.
The office itself was underutilized; it had equipment for more comprehensive testing, but patients didn't hear why the testing was useful. My nine years as an optician helped me, too, because I was able to manage just about everything—from finishing lenses on our in-office edger to answering the phone and ordering inventory. Initially, those were long days as I came in early and stayed late to complete tasks like those.
As I became busier, however, that didn't make sense financially for me. I could hire an optician cross-trained in insurance and front desk and still provide relief as necessary. Even as we added staff, my focus stayed on maintaining a personal connection to patients because that's what's helped me grow. Patients tell me that they have never had such a personalized visit before. It's still fun for me to be able to come out of my office and compliment a patient on a frame selection he or she has just made. We've also started to provide more medical services for patients with glaucoma and diabetes. We now have three or four staff people, and we use part-time staff to fill in the gaps.
The search for my own practice took about a year, but the timing was perfect. I was pregnant with our second child, so while it felt like a lot to juggle, it was also more comforting to know I'd be nearby. I worked until the day before I delivered, and although my leave as an employed OD was twice as long as the six weeks I was able to manage here, I felt connected to this office on a regular basis. I was picking up deposits almost as soon as I got out of the hospital, and I could see that our fantastic office manager was able to keep the practice's reputation on social media going strong. I was able to find coverage for a six-week maternity leave, and I have one other OD who works here on Saturdays.
Every day isn't easy, but I felt ready for this challenge.