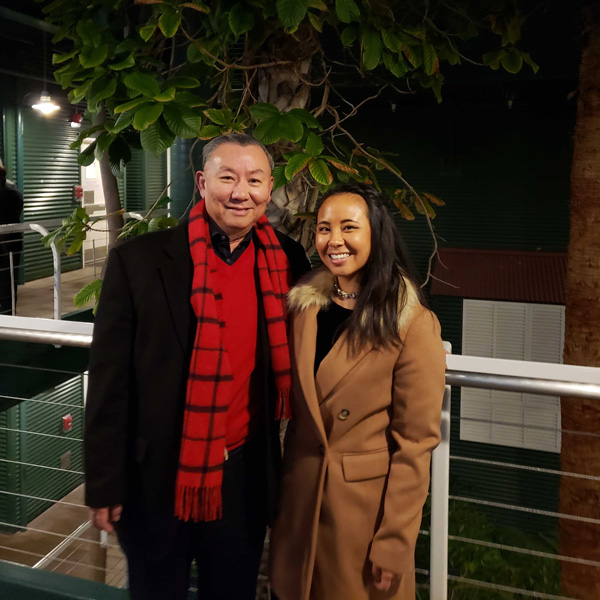 After graduating from the University of Missouri-St. Louis College of Optometry in 2015, Jenn Chinn, OD, returned home to San Diego, California, and joined her father Stephen Chinn, OD, in his practice there. Dr. Jenn says that her dad was a great influence in leading her to the profession of optometry. She spent countless hours as a child in one of his multiple practices he started 40 years ago. She watched as he expanded the business—he had up to three offices at one point—and eventually sold off components, winnowing down to his principal office.
She says, ultimately, it was after her undergraduate degree completion that she decided optometry was her path. "I was working in event coordination at a local bookstore and for weddings and corporate events. It was a lot of fun, but I never felt an overwhelming amount of fulfillment," she says. "I realized that I wanted to help people and that optometry is full-circle." She adds that as an optometrist, she can not only provide eye care for vision but also looks at the larger picture of the body and how medication and systemic diseases affect the eyes.
She has been working with her father as well as some other practices, including a laser eye surgery ophthalmology center since graduation from optometry school. As she's built up her patient base at Dr. Chinn's Vision Care, she is now spending six days per week in the family practice. She says that she and her father both encourage each other to continuously improve their skills and learn in efforts to provide the best care for their patients. "We have always pushed and challenged each other," she states. While she was in optometry school studying for her Part 1 National Board of Examiners in Optometry examination, she encouraged her father to pursue his lifelong goal of becoming American Board of Optometry Certified. This allowed them to study together and quiz each other over the phone.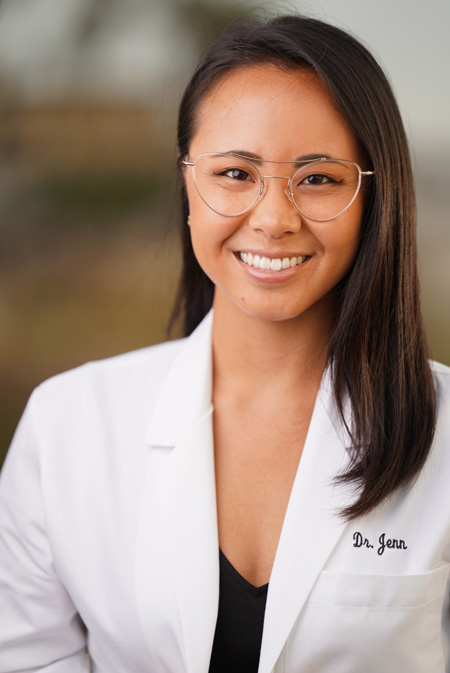 For their private practice, they analyze technology purchases together. Her father brings his years of expertise and experience to the decisions, while Dr. Jenn Chinn can give insights from using some of the newer instrumentation at school. They had purchased an OCT together and have since upgraded to an OCT-A, an OCT unit with angiography to benefit their diabetic patients. "I want to help our patients in every way possible and show them the importance of the eye exam through the tools and technology that we use," she says. Most recently, they've invested in the Lipiscan and LipiFlow combination with outstanding results. Personally, she remembers suffering from dry eye when she was an 8-year-old competitive swimmer wearing contact lenses. After having worn contact lenses for decades, her own trial with the LipiFlow immediately showed her the impact this treatment could have on patients in this digital age.
The team at Dr. Chinn's Vision Care is wonderful, and Dr. Jenn Chinn is very thankful for that. As a family-owned practice, all of their team members and patients are treated as so. She's utilizing her leadership skills for staff management and process implementation from her experience in teamwork and efficiency in event coordination.
Dr. Jenn Chinn says that she appreciates being part of her father's legacy. "He has opened all of his practices cold and survived because his patients love him," she says. "It's been a great experience to see how much he's grown in the process, how the staff has evolved and what my dad brings to the table as a business owner." She admires his efforts and has many aspirations for the practice for the years to come—adding an associate; implementing new training for staff, especially those who are new; improving office processes; and maybe most importantly, providing easy-to-digest patient education. "We have to differentiate ourselves from the competition," she says. "We need to educate our patients about their vision and eye health for better health outcomes overall. Our focus is on our patients and that should ultimately separate us from others who view them as customers."