"Simply put, raising awareness about the cause of vision is what we do. We are very passionate about healthy eyes and great vision." That's how Ann Gallagher, OD, describes the work she and her colleagues do at Professional Vision in Ellicott City, Maryland. And while Dr. Gallagher prides herself on providing exceptional eye care to her patients, giving back to her community is also something that is near to her heart.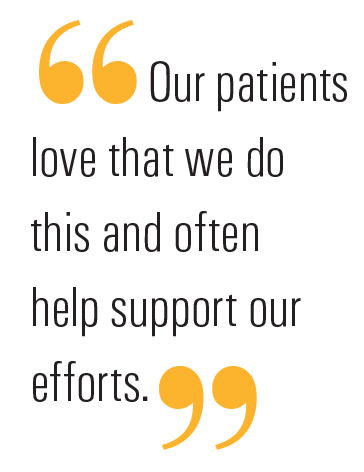 "Our office recently participated in the Foundation Fighting Blindness 11th Annual Baltimore Vision Walk. This is the first time our practice has been involved in an event like this and worked together to raise money for a worthy cause. Even though it was a rainy Sunday, everyone who was there really enjoyed it," Dr. Gallagher says. As a fundraiser for the walk, Professional Vision held an in-office raffle and sold tickets for prizes. The practice matched the amount raised through the raffle for a total of $1,200 and made a large donation to the Foundation Fighting Blindness and also to Essilor Vision Foundation.
She says that her staff embraces the opportunity to help others. "Giving back and taking care of people who need an exam or a pair of eyeglasses reminds us why we do what we do, which is to help people see and live a better life. When the staff doesn't have to worry about insurance coverage and copays and can just focus on helping people—this is what we love to do."
Patients are also an important part of the equation. "Our patients love that we do this and often help support our efforts, whether it's through a fundraiser like we did for the walk or collections for people in need in our community. Our patients help us with anything we do to give back," she says.
Advocating for children's vision
Dr. Gallagher also is passionate about children's vision. "Healthy eyes and good vision are essential for a child's growth and development. In fact, learning is 80 percent visual, which means a child's success in school, athletics and many other aspects of life can be impacted by poor vision." That's one reason why Professional Vision participates in Essilor Vision Foundation's See Kids Soar™ in-office cause campaign that is designed to help eye care professionals talk to their patients about vision care. The campaign is intended to inspire parents, patients and optometrists' staff to adopt the cause of vision and give them an opportunity to raise awareness that millions of children in this country need vision care. Professional Vision also has donated frames to Essilor Vision Foundation to help
more kids get glasses.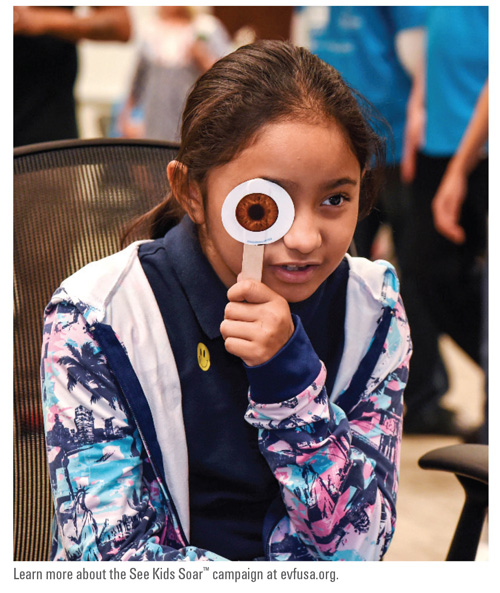 "Every child of school age should have comprehensive eye and vision exams on a regular, yearly basis to assess their eye and vision health and ensure that any issues are addressed as soon as possible," she continues. However, nearly 25 percent of parents can't afford a comprehensive eye exam for their children1, and Dr. Gallagher is doing her part to bridge the gap. "I also volunteer at community health fairs and work with school nurses to improve school screenings" to help more children have access to good vision, she says.
Giving back and getting back
Dr. Gallagher says giving back helps ground her. "I am able to remember why I like to do what I do. I can step away from the distractions of the administrative side of the job and just take care of patients and help them have healthy eyes." She encourages other eye care professionals to help make the difference in their communities as well. Not only can it be a great team-building activity and practice-builder, but "you will get more out of these activities than you expect and definitely more than you put into them."