It's not unusual for at least 45 patients to come in for exams on a Saturday at the Lincoln Village America's Best store in Chicago, Illinois. Tanya Kechker, OD, juggled most of this full workload as a solo doctor at this location with the occasional fill-in doctor. The store, located in a busy foot-traffic area, had blossomed and grown since she took it over in 2009. Dr. Kechker's reputation earned her a steady stream of new patient referrals. "It's been very rewarding seeing patients who bring their families or send their compliments," Dr. Kechker says.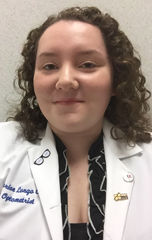 When Marian Longo, OD, was assigned to join her in July 2014, Dr. Kechker says that she quickly realized that it was the beginning of a great professional relationship and friendship. "That was the greatest moment of my professional career," Dr. Kechker says. "I was getting burned out." Dr. Longo came to the office after feeling her scope of practice had been limited as an associate OD in private practice. "I landed in corporate, and it fulfilled everything I need," Dr. Longo says. She, too, says that she realized how well she worked with Dr. Kechker. "We just complement each other so well," Dr. Longo says. "We know each other's weaknesses and strengths, and it better serves our patient population to refer to each other if we don't feel comfortable with a patient."
For example, Dr. Longo handles most of the ocular disease, foreign body removals and specialty contact lens fits. Dr. Longo says that she is confident in these areas thanks to her residency at Illinois College of Optometry, where she spent time managing an emergency room. "Her background in ocular disease has proven invaluable to our practice," adds Dr. Kechker. "We have a lot of pathology, and now we can take care of these patients right in the store."
Dr. Kechker has more experience working with post-op patients after refractive or cataract surgery. Both doctors provide pediatric eye care, but Dr. Longo is more comfortable with those under 5 years old.
Dr. Longo says that it didn't take too long to adjust to the fastpaced environment. "In residency, you are very efficient in clinical decision-making. I came here in that mode, so Tanya didn't have to baby me too much," Dr. Longo says, laughing. "She showed me how it works here with the patient population and the company, so the transition was pretty easy."
Both doctors and the staff from America's Best continue to fine-tune the patient care experience. "We're working on making sure that everyone is on the same page, emphasizing communication, organization and teamwork," Dr. Longo says. They're focused on providing thorough, yet efficient, eye care with a personal touch. The proof of the positive results comes right from the mouths of their patients. "Patients notice your delivery and how you speak to them to show your concern. The reviews reflect that."
What started as working one day together a week grew to three days, and Dr. Longo also covers an additional day. "We're seeing more patients overall," says Dr. Kechker, and an extra room in the store has been transformed into a second exam lane. "Fewer patients are referred out now that we have an amazing doctor like Dr. Longo."
Dr. Longo is also thankful for a new friend in and out of the office, and she says that she looks forward to fulfilling her niche in the practice. "I've been moving around so much, so it's exciting to see the same faces again."