This story originally appeared in our September 2011 issue.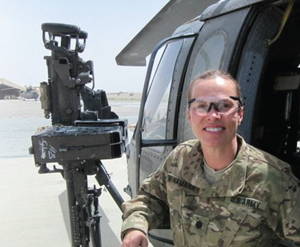 U.S. Army Lt. Col. Debra McNamara, OD, who is the 124th Medical Detachment optometry team leader, 18th MEDCOM from Fort Shafter, Hawaii, shares a common goal with many optometrists: to provide eye care that enhances the patient's career and lifestyle needs. Beyond that key similarity, however, Dr. McNamara's role is a far cry from most community-based OD practices. Her setting and environment constantly change, and her patients face extreme visual tasks far more demanding than computer use.
Dr. McNamara has been deployed since May to Afghanistan, where she provides initial diagnosis and management of eye injuries on the battlefield and detects, diagnoses, treats and manages ocular disorders, injuries, disease and visual dysfunctions in U.S. fighting forces. "Providing eye care while deployed requires the same clinical skill set used in any optometry clinic, with the addition of a specific focus on maintaining combat-readiness," she says. She's been caring for patients with glaucoma, macular edema, keratoconus and trauma, as well as a number of recurrent erosions due to the dry climate and severe conditions. Dr. McNamara works without specialized diagnostic equipment, such as a visual field machine, topography or ocular coherence tomography unit, so she utilizes the military EMR to review patients' previous military eye exams and research previous diagnostic testing to assist with diagnoses.
Her team is comprised of two optometrists, two optical fabrication specialists and two medic/optometry technicians. "The 124th
optometry team is modular, scalable and flexible enough to provide far-forward optometry support to the area of operation and provides assembly, repair and fabrication of spectacles and optical inserts for protective masks and ballistic eye protection," Dr. McNamara says.
But so much of what she does comes back to the simplest form of optometry: "Asking which is better, one or two, all day every day, seven days a week. So you have to mix it up a little and keep it interesting," Dr. McNamara says. In addition to U.S. forces,
she examines detainees, retirees, contractors and NATO soldiers. And every couple of weeks, the team packs up its equipment, loads it on a helicopter and is flown to remote forward-operating bases to provide quality eye care with an emphasis on vision readiness and combat eye protection.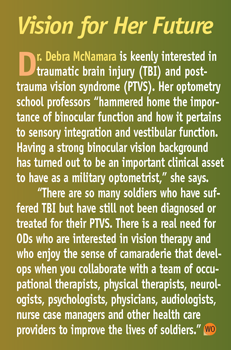 Before deploying to Afghanistan, Dr. McNamara also performed military humanitarian missions in Bulgaria, Cambodia and Kosovo and has been stationed at 12 different locations throughout the U.S. and Germany. The military lifestyle can be tough on a family. "My
daughter, Ashley, attended 13 different schools before she graduated," she says, and her son, Ethan, is currently staying with
his grandparents in North Carolina. "Military deployments, schooling and missions are always disruptive to family life, so it helps to have good friends and a supportive family who are willing to help." Although she misses her children, she reports that the 124th optometry team has great unit cohesion. "The Camp Phoenix optometry clinic has a great work environment, the patients are appreciative, and I have developed lasting friendships with the people with whom I'm deployed."
Dr. McNamara has a sense of humor, even while acknowledging the risks of her role. Unlike a humanitarian mission, ODs who have been deployed "pack a weapon; have to beg, borrow and steal to get equipment; take occasional Blackhawk rides; and have to work through a few rude interruptions from incoming mortars," she says. "Being part of a deployed optometry team puts everything in perspective and reminds me of why I joined the military; it's a fun and rewarding profession."