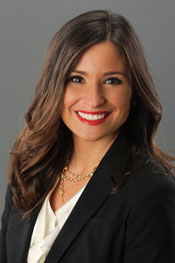 Before Andrea Knouff, OD, of Atlanta, Georgia, started her two-month maternity leave earlier this year, she made sure she had people and processes in place that would allow her new associate, Minty Nguyen, OD, to step into the role confidently. There was a lot of work to do to prepare, but at least she didn't have to worry about the refraction procedures. When Dr. Knouff opened her practice two years ago, she started out with the Marco TRS-5100 autorefraction system. Within six months, she added the OPD-Scan III, the components of the Marco XFRACTIONSM process.
"I'm in a high-tech area in the middle of the city, and having that kind of technology set me apart from other practices," she says.
She had worked in a private practice for six years before opening her own, and she had a chance to work with the TRS system there. "I
did look at others, but nothing else compared. I knew the Marco system was the first thing that was going into my new office," she says. She started out with one lane and added a second. "Everything in the lane is from Marco: chair, slit lamp and projector," she says.
Dr. Knouff says that the autorefraction system has made a difference in patient perception of her practice. Nearly every patient goes through the 60-second refraction process, and many are impressed by the technology. "They say, 'Wow. I've never seen this.' It's a great way to show every patient—not only patients who see advanced medical equipment—how up-to-date our technology is," she says. She believes that it has contributed to the excellent customer reviews the practice earns. Patients frequently comment on the high-tech aspects and the thoroughness of the eye exam.
"It has also helped our sales," she says. The quicker refraction means that she has more time to discuss her recommendations
with patients. These could focus on the specifics of the prescription and the products that will provide the best results. Or she can make sure she addresses patients' questions about any ocular disease.
Yet one of her favorite features is that she can show patients—with the touch of a button—how their new prescription compares to the previous one. "I use that feature on every patient. I know it's effective because I can see the results in the optical. Our capture rate is increasing," she says. Plus, she's not the one who has to try to gauge how much or how little a numerically small prescription
change will impact the patient. Now she can show it, and that has encouraged many patients who might not otherwise have
purchased new eyewear to do so.
The faster refractions also allow her to see more patients. "My revenue increases from two factors. I'm able to see more
patients, and I'm able to talk more with my patients about how the eyewear I'm prescribing will benefit them," she says.
"Because of the wavefront OPD system, I know that my refractions are right on," she says. That ultimately results in fewer remakes, which saves her time and money and saves her patients the aggravation of having to have their eyewear remade.
The data that she has available right at the start of her exam allows her to provide patients with the best quality exam she can
give, she says. The analysis will let her know, for example, if there is pathology or some limiting factor that might prevent her from being
able to get the patient to 20/20.
The system has proven itself easy to use, the importance of which became even more apparent as she was preparing for her leave. "I've trained my staff to use the OPD-Scan III, and my optician technician can do the refractions and I can confirm her findings quickly," she says. Her continued success depends on her having top-notch staff in place who can keep the practice running smoothly no matter whether she's there or not. And when that staff has access to instrumentation that she knows will provide reliable data and speed up the patient experience, she says then the investment becomes even more worthwhile.