Growing up as a native Californian and attending optometry school at Southern California College of Optometry, Teni Keshishian, OD, was looking for a place to grow. Since she kept in touch with colleagues from school, she knew one of her friends was happily working for National Vision in Utah, which piqued her interest.
After connecting with a recruiter, Dr. Keshishian was flown to Washington state, where she was hoping to practice, to visit an optometry office located inside a National Vision location. When
meeting more doctors of optometry working in the National Vision network, she felt an immediate connection. "As I talked to more people, it clicked. I knew I didn't want to practice anywhere else," Dr. Keshishian recalls.
When an opportunity opened up in her hometown of Glendale, she jumped on it. Now practicing with Redwood Sage, PC, an independent practice with offices located inside America's Best Contacts & Eyeglasses, Dr. Keshishian is home. "It's the community I grew up in," she laughs, "It is so nice to see patients who were my high school classmates or family friends. It's so nice to help out your community. It's an honor."
From the get-go, things were different with her practice. "The environment was so different," she says, "As cliché as it sounds, it didn't feel like work. It felt like family." Not only was
she impressed with the social culture of the practice but also when she saw the caliber of care she would be able to provide. She was impressed—to say the least. "It blew my expectations away!"
R-E-S-P-E-C-T
Another element that Dr. Keshishian found by being a member of the National Vision Doctor of Optometry network was the respect the company holds for doctors. Along with her practice, it does everything in its power to support high-quality care for patients. "With all of us, what we like to do is take care of others. We put the patients first, and National Vision prioritizes patient care," she says. "One of the ways it shows this is through providing affordable eye care and eyewear."
That creates access, which allows her to see and treat patients who haven't had an eye exam in years but need eyeglasses or treatment at an affordable price. She also notes that with the technology provided, she never has to compromise the level of care she can provide. "The fact that I am able to still provide quality eye care is something I'm proud to do," she adds, "I will always be with a practice that is part of the National Vision network."
Dr. Keshishian praises National Vision's ability to look ahead. "Every time I go to meetings, the company shares how it is partnering with independent practices to innovate the eye exam experience," she says. "I think people associate low cost with low quality, but we offer such thorough eye exams that I think people are surprised."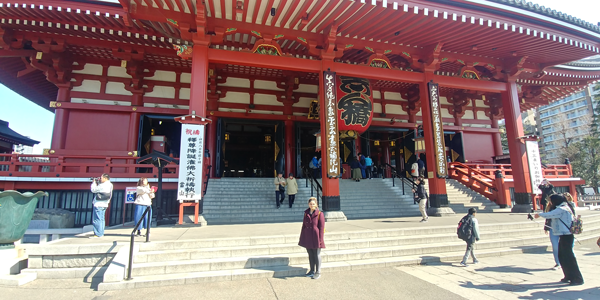 GROW AS WE GO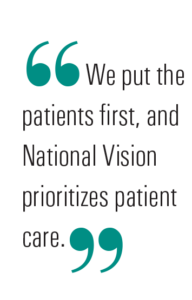 Many ODs will praise their employers for giving them room to grow, and Dr. Keshishian is no exception. In May 2019 she became the Area Doctor for many of her practice's offices in Los Angeles. This role allows her to help doctors build their patient base and develop efficiencies that allow the practice to thrive. But she always goes back to patient care as the top priority.
She also has had great success in connecting with other doctors, including finding a network of mentors among women ODs. "It is so incredible to be surrounded by strong and amazing women. They have helped me and been role models and my support system," she says. "It is also important for me to work alongside a company that supports women. The district manager I partner with is a woman, and many other leadership positions are held by women. To see them thriving is inspiring."
Dr. Keshishian notes the value of providing excellent care as well as accessible pricing. "I knew I wanted to be an OD… I wanted to take care of patients," she says of her practice. "That's what makes me so satisfied. Everyone wants me to do what is best for the patient," she says, noting that she feels like she can always recommend the products most appropriate for that patient without financial pressures to do so. "I treat every patient like my family member."