WO Pop-up Poll Results: A Friend Indeed
A majority (71 percent) of respondents to a recent Women In Optometry Pop-up Poll said that when they have a best friend in the workplace, it makes them happier. As one male OD respondent wrote, "My relationships at work are the number one driving force of how good my day is/was. While these relationships certainly include my patients, the ones with my coworkers have a much bigger impact. I have stayed (and left) places due to my work friends (or lack thereof)."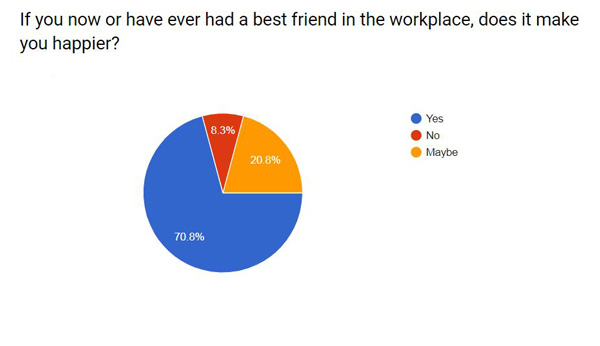 The poll results match what the Gallup organization has found; it includes a question about best friends in the workplace because "our research has repeatedly shown a concrete link between having a best friend at work and the amount of effort employees expend in their job. For example, women who strongly agree they have a best friend at work are more than twice as likely to be engaged (63 percent) compared with the women who say otherwise (29 percent).
_x005F_x0001_Yet a slight majority of respondents (51 percent) also said that they do not have a best friend at work. Nearly 23 percent said they do have a best friend at work, and another 25 percent said that they have had one.
Respondents were generally supportive of encouraging staff members to recommend friends as employees, with 40 percent saying yes and 32 percent saying maybe. Twenty-eight percent said no.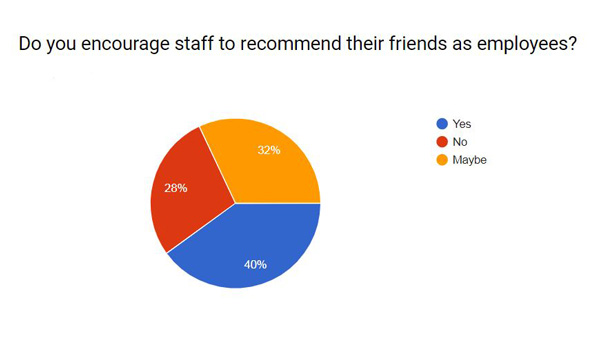 As one female OD respondent said, "I would encourage positive and reliable employees to recommend their friends. However if someone is in any way difficult, I don't want a friend who would be similar or who might escalate an undesired behavior."
_x005F_x0001_That's precisely what some see as the potential downside to having friends at work. Overall, respondents seemed to see positive benefits from workplace friendships, but some drawbacks were noted, too.
Percentage of respondents who saw positive results from workplace friendships
Positive atmosphere: 77%
Higher productivity: 75%
Teamwork/innovation: 69%
Employee retention: 55%
Percentage of respondents who saw negative results from workplace friendships
Distractions/disruptions: 57%
Exclusion/cliques/gossip: 49%
Negative atmosphere: 14%
Lower productivity: 2%
One female OD noted, "I feel that friendships can be beneficial but also distracting. Groups can develop where new employees don't feel welcome and gossip can interfere with productivity. Personally, I have been separated recently from those I relate well with and it has me contemplating a job move."
Seventy-one percent of WO Pop-up Poll respondents said that they create opportunities for staff bonding, and 14 percent said that maybe they do so. Twelve percent said they do not.
The Gallup article on this topic suggested three strategies for creating a culture where friendships can develop naturally.
1. Promote open communication and collaboration.
2. Encourage people to get to know one another.
3. Promote and participate in social activities.
You can read the Gallup article here.
Seventy-two percent of the respondents to the WO Pop-up Poll were women ODs, and 9 percent were women, not ODs.