In tribute to her native home of Kingston, Jamaica, Kerri-Ann Coombs Hodge, OD, wrote the book, A Girl With A Big Vision.
The book tells the story of Natty, a young, bright inquisitive girl who carries the weight of her father's vision loss. Her dad, her hero, is going blind, and she wants to save his eyes. She makes it her life's mission to leave the beaches of Jamaica and study optometry in the U.S.
The e-book is based on Dr. Hodge's own personal experiences.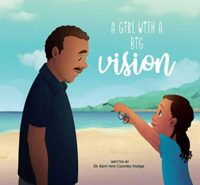 CONNECT WITH A GIRL WITH A BIG VISION.
SHOP. | INSTAGRAM.