Parents of patients at Little Eyes in Carmel, Indiana, often ask Katherine Schuetz, OD, what to look for and how to know if their child is having any vision problems. "A comprehensive eye exam is the only way to get it done, and it doesn't mean you are a good or bad parent," she explains. She educates all parents about how regular eye exams let her monitor vision and also ocular health.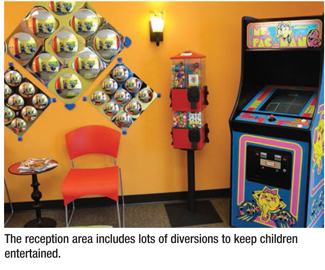 It's been two years since Little Eyes, a pediatric-only practice, branched out from RevolutionEYES, located just two miles away. Dr. Schuetz spends half of her week working with practice owner Jeremy Ciano, OD, in the main office. Little Eyes was inspired by Dr. Ciano's son, Alex (read the full story at littleeyes.com) and has become well-received by the patient population and community. "In the beginning, some established patients wanted to have parents and kids examined all in one place," Dr. Schuetz says. "We were firm and let patients know that Little Eyes is here to serve the pediatric community in a special way. Once patients come here, they get it, and anything negative turns to positive." There's a different look to the office space, and the exam experience is completely tailored for children from the video games in the reception area to the chance for patients to see themselves on the big screen TV after they pick up their new eyeglasses.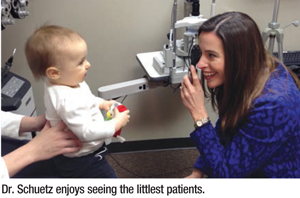 Each piece of instrumentation chosen for Little Eyes was carefully analyzed, and while none of the technology is designed specifically for children, the features of each are kid-friendly. "We use a retinal camera that can get a good image quickly," Dr. Schuetz says, adding that they also chose an autorefractor that is well-suited for wiggly children in the chair. Expanding the pediatric segment of any practice can be beneficial for business, Dr. Schuetz says, so choosing technology with these characteristics can help practice owners who want to achieve that goal even without opening a separate office.
And while it wasn't easy, Dr. Schuetz says that having a second location has paid off for the practice mission. "We were worried that we could cannibalize our own practice, but it's been the opposite," Dr. Schuetz says. The concept has helped them grow both practices, and Little Eyes and RevolutionEYES regularly refer patients to each other. Personal visits to local pediatricians' offices have also helped Dr. Schuetz build Little Eyes. In addition, the practice makes a donation to Indiana Blind Children's Foundation for every purchase of eyeglasses and has participated in Indiana Colts Kids Club events around the state.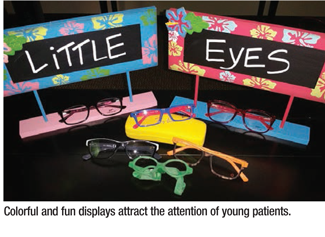 Consistent education in both offices drives home the message about the importance of pediatric vision care. "We frequently have moms who are worried because their first grader can't read in school," Dr. Schuetz says. "They bring along their 9-year-old, too, and that child with no symptoms is sometimes the one who needs correction. You can be a hero to a child and his or her family when you deliver +8.00D eyeglasses to a child who could never see." These families become advocates for the practice. "It's extremely rewarding working with kids, and our presence has changed the mindset of lots of parents and pediatricians, bringing a level of awareness," she says, as her littlest patients begin a routine of having regular, preventive checkups.