Each wall in your office is a blank canvas. While laying a fresh coat of paint may be the norm and first step in personalization, many ODs have decided to showcase their walls with a little more pizazz. These walls serve a purpose beyond being structural elements, and the results are stunning and eye-catching.
Often, practice branding and logos are woven into these special designs displayed on the wall behind the front desk or in the middle of the optical. Others use the walls that guide patients throughout the exam, encourage education and pay homage to the local community. These walls spark conversations, and they illustrate the dedication to detail that each OD brings to her business and office.
These seven doctors created unique focal points with a range of design elements from wood and stone to glass and pops of the colors most pleasing to the eyes. We hope you find inspiration in their choices.
---
At Cedar Park Vision in Cedar Park, Texas, the walls inside and outside the practice play a part in creating an office atmosphere. Kim Wampler, OD, chose a mix of different colored wood pieces in a collage behind the front desk, and she hired Austin mural artist Mike Johnston to paint a masterpiece on the side of their brand new building. Read her full story here.
Elaine Happ, OD, of Monticello, Minnesota, contacted a friend, who is a graffiti artist, to bring her vision to life. The mural in her optical incorporates a woman looking at the front door, the practice name, art depicting eyeglasses and the color purple as a tribute to Minneapolis legend Prince. Read her full story here.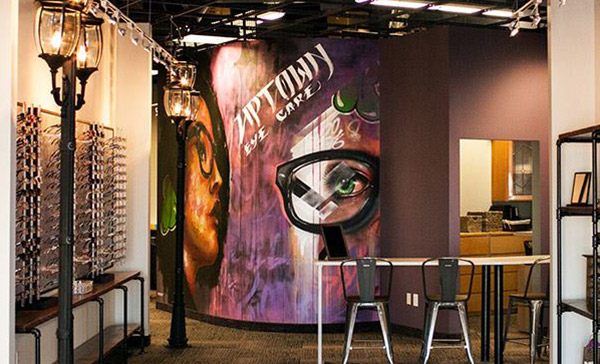 Beth Groninger, OD, of Plainfield, Indiana, personally picked each earthy toned stone that was placed on the wall behind the front reception desk. "That's the feature I get the most compliments on," she says. It was a splurge, but one that she says was well worth it for its contribution to the office's peaceful environment. Read her full story here.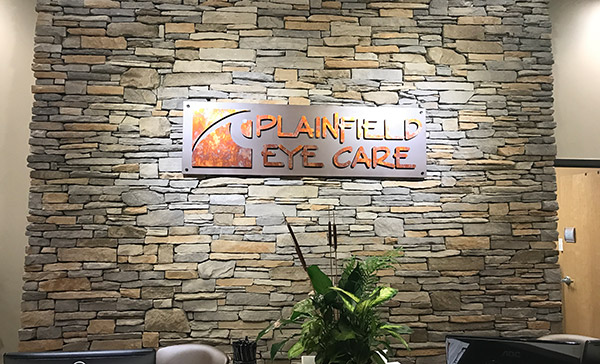 At Innovative Eye Care in Kalamazoo, Michigan, Alexandra Copeland, OD, chose a sleek blue back-lit wall where her practice logo is prominently featured with backlight illumination. Read her full story here.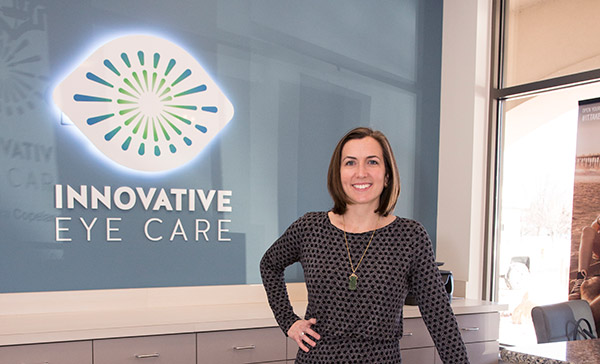 Lydia Liu, OD, of Park Ridge, Illinois, showcases her logo in the optical on a bright orange background. She displays word decals related to optometry and ocular health on the wall leading to her pretesting room. Read her full story here.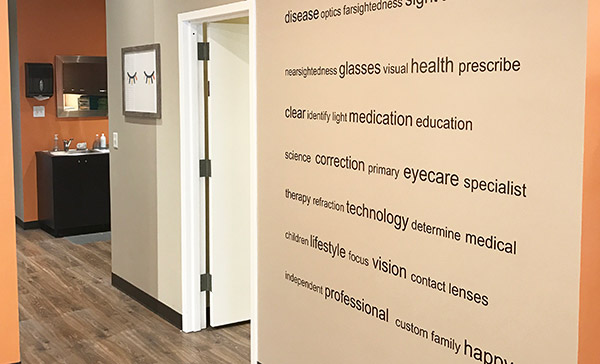 Inna Lazar, OD, of Greenwich, Connecticut, just started her practice last year, solely providing eye care with an independent optical next door. By arranging wood panels in a variety of sizes and shades, she created a rustic look behind her front desk with one "unfinished" edge that pops against the light gray paint behind it. Read her full story here.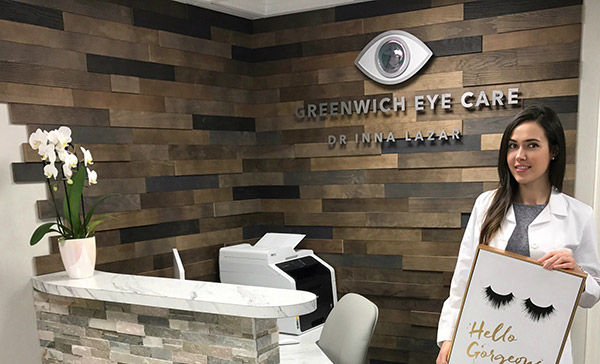 Sarah Ebeling, OD, of Apple Valley, Minnesota, wows patients with a large display of the practice name in bright green "apple". It has a wavelength of 555 nanometers, which she learned in optometry school is the easiest wavelength of color for people to see. Read her full story here.