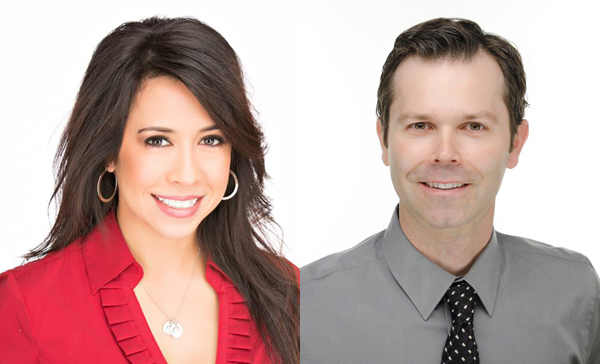 Kimberly Wampler, OD, and her husband Jeff Wineinger, OD, celebrated a decade of practice ownership in November 2017. They bought the practice 10 years ago after its former owner sold one of his three office locations to them. Not too long after they bought it, they began thinking about a move. Right around this milestone anniversary, the new location opened.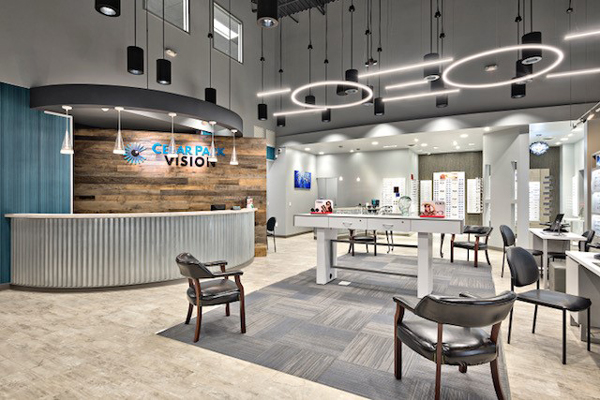 The effort to relocate Cedar Park Vision in Cedar Park, Texas, had been a labor of love. The process took five years of planning, starting with extensive research about the city, which is located about 20 miles northwest of Austin. "We did some studies for a few years, watching the area and growth," Dr. Wampler explains. "There's potential for many new patients because this city is one of the fastest growing in the nation," with several new housing developments underway.
Two items topped their wish list for a new space. They wanted better visibility than their former space, which was located in a strip mall but not easy to find as it was tucked away behind other businesses, and to stay within a one-mile radius.
Nearly four years ago they found their ideal property—a large, empty lot of land just a half mile away—and they purchased a portion of it that is located at a busy intersection right on the corner. "You pay a premium to be at a major light," but the investment was worthwhile, Dr. Wampler says. They spent the next year negotiating the price and completing the purchase.
The original plan had been to roll out construction on their land in two phases: first, their office, and then an expansion of a strip center for rental opportunities. But when faced with the realities of city codes and parking regulations, the best decision was to build all 11,000 square feet of the project at once; their office takes up half of the space.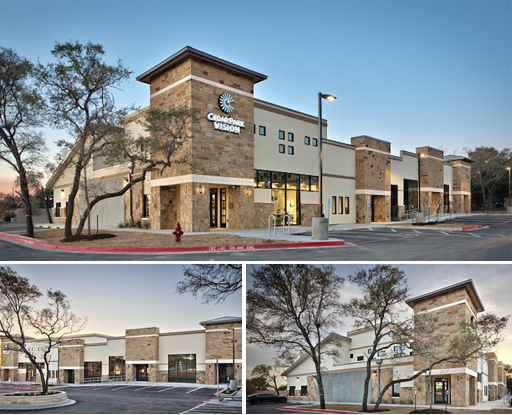 She worked with the city development team and on the design of the building, and Dr. Wineinger was in charge of the engineering and electrical details. She adds that splitting the responsibilities was very helpful as they went through the process. Ultimately, their opening was delayed about a year from the anticipated date, "but we have learned a lot from the city, banks and architects we've been working with on this project. It's very stressful because I'm very picky about every detail, but it's been a great experience," she says.
The new office space at 5,500 square feet is just more than double their first office, and they now have six exam lanes instead of three. Dr. Wampler says that she pictured the space in a very specific way. "There's a classy aspect but there are raw beams exposed and a loft-like industrial look with a little bit of sparkle," she says. It looks like an art gallery with open space incorporating lots of natural light in the optical, which has a 30-foot ceiling. The rest of the space has average height ceilings, with a second level for office and storage space.
The office typically attracts patients from as far as an hour away, and Dr. Wampler looks forward to her changing patient demographic and adding more exclusive frame lines. "We want pieces that are original and special, and our opticians will be trained to tell the story of the line," she says.
And just as the frames themselves are pieces of art, there is also plenty of wall space to feature local artists. Dr. Wampler plans to purchase art for the office and possibly commission some art to offer for sale. She even plans to hold an event for patients and invite Austin mural artist Mike Johnston, who has worked with Google and Spotify, to paint the side of the building.
The practice has always had a focus on the latest technology so there weren't too many new pieces to add with the move. Dr. Wampler did add new phoropters to her new exam lanes, and she also plans to upgrade her OCT soon as she sees many patients with diabetes for medical eye care. She hopes the expanded space will allow her to dedicate areas to some other specialties she would like to pursue, such as vision therapy and myopia control.
In addition to the mural event, the doctors plan to hold two grand opening events: one with the local Chamber of Commerce and another for their professional network of doctors such as retinal specialists who refer to the practice. She says that she would also love to host some just-for-fun events, such as through Sofar Sounds, an organization that brings independent artists to a variety of settings that meet certain space and technical requirements. (Learn more at sofarsounds.com.)
Looking ahead, their goals are to "add an associate or two in the next few years, as well as hire more staff to be assistants, techs and opticians," she says. And as they opened up in December, Dr. Wampler was pleased to share that already had one tenant for their rental space. A dentist would be moving in the other end cap with a lease for 10 years, leaving the center open for either one large office or two smaller tenants. Dr. Wampler says that she also likes that there is flexibility for them to expand into that area.
Click here to read about the mural creation process.
Photos provided by Dr. Kimberly Wampler.