This story was originally printed in our June 2011 issue. Click here for the latest information on Lyons Family Eye Care.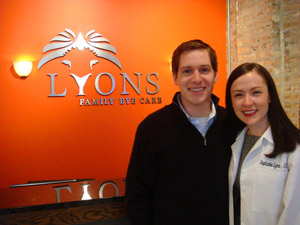 Chicago is full of high-end optical boutiques and corporate optometry offices, but Stephanie Lyons, OD, saw something it was missing. "I wanted to bring family eye care to the city," she says. "It's a common type of practice in many other places, but it wasn't here." In fact, she found few pediatric or vision therapy practices in the city. She saw this as an opportunity to stand out amongst the competition in a saturated market.
Parents are drawn to Lyons Family Eye Care, which opened earlier this year, recognizing its kid-friendly appeal by the name and the logo. Dr. Lyons had her eye on this goal a few years into earning her degree at Illinois College of Optometry (ICO). She and her husband and high school sweetheart, John Lyons, grew up in the area and spent the two years prior to their opening developing a
plan. Dr. Lyon's worked part time at a corporate location, getting a taste of running a business and managing staff.
The couple identified regions with lots of children and public schools. Her first lease fell through early last year, but in retrospect, she's glad it did. This past October, she found an even better location: a former art and antique gallery. "The space was completely empty with just four walls and nothing else. We built everything from the ground up." The couple secured financing and John Lyons, who is also the practice business manager, began to transform the space with a wide-open reception area, optical and children's area with wood flooring.
Most walls are either brick or painted a deep orange color. It has two exam lanes in anticipation of future growth. By design, it's very homey, as the couple chose household furniture rather than typical doctor's office furniture. The staff area in the kitchen includes a big table, used for meals and office meetings. "We wanted to make it a really comfortable place," she says. Lucky and Chance—two schnoodles (a schnauzer/poodle mix)—are regulars in the office.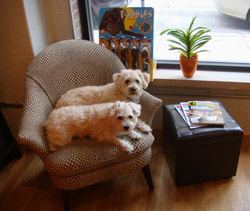 Before she even opened, Dr. Lyons started a practice Facebook page, which now has more than 500 fans. She posts news or photos, such as patients in their new eyeglasses, at least once a week. Dr. Lyons mailed a grand opening announcement to people living in the area, as well as local business owners and school nurses. The couple continually reaches out to the community, contributing to local school newsletters, sending online newsletters and connecting with the gym across the street. "Thanks to our early start and word-of-mouth referrals, we are so far ahead of where we thought we would be at this point," Dr. Lyons says. A friend designed their logo, which incorporates the Y in Lyons into the face of a lion. It impressed her because it didn't look like a typical optometric practice logo, and a lion serves as the practice mascot. Stuffed, toy lions and art can be found around the practice, as well.
Like many optometrists, Dr. Lyons was on the fence about an online optical. "It was a big debate, but we knew it was coming. We decided to give it a shot," she says. While Dr. Lyons and her husband don't anticipate it will drive an enormous amount of revenue into the practice, the big advantage is that she can offer more products to patients than she can stock on her shelves. "We're a practice that's really dedicated to technology and being ahead of the curve." After promoting the site by email blast and on Facebook, they received their first online orders.
Even as she's building her six-month-old practice, she is looking ahead, perhaps to becoming involved with ICO's externship program and working with students. She's already hired a first-year student independently of the school program to help as an optician this summer. "I'm excited to give her a look into our office, the practice and pediatrics," she says.