Tory J. Goode, OD, opened Mountain View Family Eyecare in Heber City, Utah, about five years ago. As her lease was reaching its term, she wanted to see whether expanding was a possibility. It's a tricky proposition for a solo doctor who does her own pretesting. She needed to balance the desire for convenience and comfort with the assurance that she'd be able to do more in a larger location.
What she and her husband, Danny Goode, found was an office that was just a little larger (900 square foot compared to the 700-square-foot space that she had been in). But sometimes a few hundred square feet can make all the difference.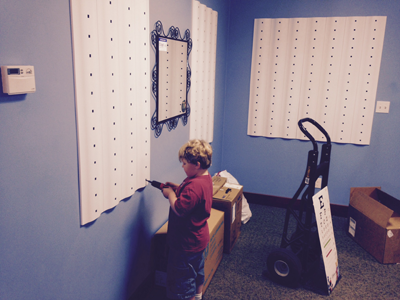 The first office previously had been an insurance office, and Dr. Goode kept the essential layout. "At the front of the office, there was a space for an optical and reception area, and then there was one room for exams and pretests," she says. The space she moved to had been a dance studio, with a wide-open floor plan. So she was able to design an office with better workflow. The business duties are now contained in an office space, so the front desk is truly a reception area. "We split the pretest and exam lanes," she says. This was one of her most difficult decisions: should she put in two exam lanes or one testing room and an exam lane. She ultimately chose the latter because she felt that it gave her the most opportunity for growth. She can bring on a technician and have both rooms occupied at once."
The optical is larger, which is allowing her to bring in more frame lines and increase the inventory. Other than that, she didn't have to do add much. She even liked the color scheme in the dance studio, and thought it was a nice break to get away from the blue walls of the old office.
"Our town is only eight miles end to end, and we moved about a mile and half away. Now we're more in the center of town, on a main street in a larger building with other medical practices nearby," she says. The square footage may be only a little larger, but the impact of the move will be a good one for years to come, she says.