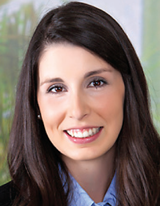 Sarah Harbove, OD, knows her patients. She grew up in Titusville, Florida, and shadowed her boss, Gregory Aker, OD, when she was in high school. She worked as a technician in this Vision Source® practice during college, filling in when she could. After graduating from Nova Southeastern College of Optometry and completing a residency in primary care with an emphasis in ocular disease and low vision at State University of New York College of Optometry, she joined this practice as an associate three years ago. "I'm so thrilled to be back home," she says.
Even though she is and has been a member of the community for years, Dr. Harbove says it's important to stay engaged with
patients beyond their visits to the practice, and even beyond running into them at community events. "We want to make sure that all of our patients know that we can take care of all of their eye care needs, not just the routine, comprehensive visit," she says. So regular contact, even if it's just a reminder that their contact lenses or eyeglasses are ready or that it's time to refill a contact lens supply, are important. "These simple, day-to-day exchanges help keep patients engaged with the office," she says.
It's a role, however, for which the practice uses Solutionreach, a secure platform of tools that allows providers to reach patients via text, email or phone calls. "It frees up time for the team, which allows us to take care of the patients in the building face-to-face," she says. The practice has a wide demographic mix of patients, many of whom prefer to be contacted via text or email messaging. But it's important that the service offers telephone calls for those patients who aren't as confident with today's technology. "Some of our older patients prefer getting a phone call," she says.
Patients determine how they want to be notified, and the rest is easy. Solutionreach is a patient-relationship management platform that sends HIPAA-ready messaging to remind patients of their appointment time or to send a post-visit survey that allows the practice to improve its service, Dr. Harbove says. Those comments and reviews can be linked to other social media outreach that the practice maintains. Linking those reviews enhances the practice's search engine optimization, which catapults the practice into even greater recognition.
Patients entered into the system are also sent a birthday greeting—a bonus that patients just love. "I hear about that birthday greeting so often," says Dr. Harbove. "It's thoughtful, and it helps set us apart."
In fact, when she first joined the practice, she used the system often to help her fill her appointment schedule. A message would go out to patients that said Dr. Harbove had an opening at a certain time that day, and often, it would prompt a phone call from a patient who wanted to take that slot. "Before we had a Facebook following, that really helped a lot," she says. Similarly, the practice sends periodic announcements or advice, such as letting patients know about the impact of diabetes on ocular health, a reminder about using their managed vision benefits or even that the practice will be hosting a frames style show.
"These contacts with patients help remind them that we're always here for them," she says. "It puts our name out in front of our patients regularly."